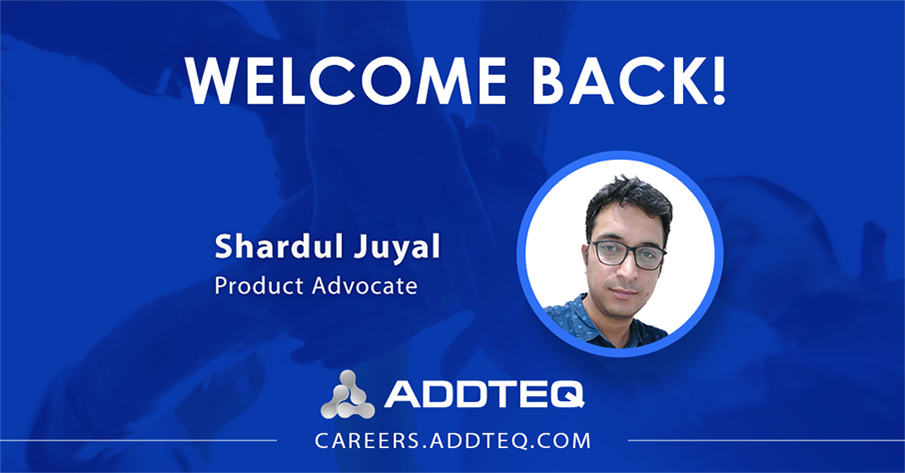 As the year 2022 ended and we started to roll our sleeves for the new year, we also had a great addition to our team. Shardul Juyal reunited with Addteq team after a few months of break.
Shardul started with Addteq in 2018 as a product advocate for Excellentable and Unstoppable products. In those early days of our flagship products, you could see him working with R&D in product improvements, finding bugs, and improving partner channel relationships. His involvement increased as he became the product marketing manager later on. We are excited to have him back. 
Shardul is not a stranger to software product innovation and marketing. Prior to Addteq, he worked at Microsoft in the product marketing team. His engineering degree and career start as a computer analyst definitely helped his approach to product marketing. 
On joining the Addteq team
"I thank Addteq for welcoming me back into the fold. I joined Addteq just as Excellentable was taking off, and re-joining the organization when we have become focused on products will be challenging and exciting." Shardul added accepting his responsibilities.
When asked about his vision over the coming months he mentioned that "Over the next months, I would work towards improving customer engagement, and ensuring that customer feedback is smoothly transferred back to the development teams. "
Be sure to follow him on social media and in our blogs to learn more about Addteq.
About Addteq
Addteq makes the software development process easy, and efficient and stress-free, by creating tools that increase collaboration or popular DevOps tools. At Addteq, we believe in working with passionate people who are looking to change the world. We know that finding a meaningful and rewarding job can be a long journey. Our goal is to make that process as easy as possible for you.
Take a look at our careers page to learn more about Addteq and the currently available opportunities