Prefer to watch? Click on the video above to see our webinar from April
The Current State of Work
We all know the story now. COVID-19 led to a massive shift to full-time remote work for many organizations, rapidly accelerating existing trends in telecommuting, e-commerce, and automation. There were a lot of positives for workers: eliminating commutes, reduced distractions, and a greater work-life balance. This shift also had several advantages for many organizations, including reduced overhead, exposure to new markets, increased productivity, and a larger pool of potential candidates now that geographic restrictions were lifted. However, some organizations faced hardships that led to reorganization and downsizing. As a result, many workers now find themselves with many new responsibilities, less time to do them, and uncertainty about effectively managing their time and tasks.
Working together in an office provides opportunities to build camaraderie with the people you work with. When working remotely, it can be challenging to establish these kinds of relationships, and for some, this can lead to feelings of disconnection. Interactions aren't as spontaneous with remote work. It may not sound like much, but ask yourself this: did you ever find yourself stuck and were able to resolve it by walking over to the right person and getting an answer in seconds? Finding the information we need while remote can be difficult if we don't know where to look or who to turn to. Many employees are returning to the office. For some, the ability to be close to their teammates is a welcome return. Still, for others, the return to the office brings interruptions and distractions that were not present while working from home, especially in an open or shared space. It may be difficult for some to regain their ability to focus after so long working in a dedicated, distraction-free area at home.
Universal Challenges
Regardless of where you work – in the office, remotely, or a mix of the two- there will always be challenges.
Multitasking and rapid context shifting – Many of us need to wear many different hats and swap them frequently. Multitasking and rapid context shifting can lead to feeling overwhelmed. Like a juggler with too many balls in the air, one wrong move, and everything comes crashing down. Managing multiple tasks can lead to things being lost in the shuffle.
Distractions and context shifting can easily cause one to lose focus. Regaining that focus is not always quick or easy.
Lack of visibility and Transparency – being included, recognized, and valued by networks within your organization—is extremely important for career success. This can be a challenge in any environment, especially when working remotely.
Multiple Communication Channels – we all rely on numerous tools to get our work done. Without a single source of truth defined, it can be challenging to determine which information channel is the definitive source of information.
Ambiguous Communication is one of the biggest challenges, especially with dispersed teams.
Reliance on memory – we rely on our memory to recall details. Memory is fallible, and details, especially those conveyed verbally, can easily be forgotten as we shift from one task to another. Without a written record, information may be distorted or lost altogether.
Questions and Solutions
How can we find answers and help ourselves?
How can we stay connected as an organization?
How can we enhance our collaboration?
How can we communicate more effectively?
How can we manage our growing workload?
You can find the answers to all of these questions in Confluence. Confluence provides a single source of truth for your organization – one place for accurate, up-to-date knowledge and project collaboration. Its intuitive structure makes setup, content creation, organization, and discovery easy! With Confluence, you can collaborate on projects and plans across all of your teams, all in one place.
Organize for Discoverability and Collaboration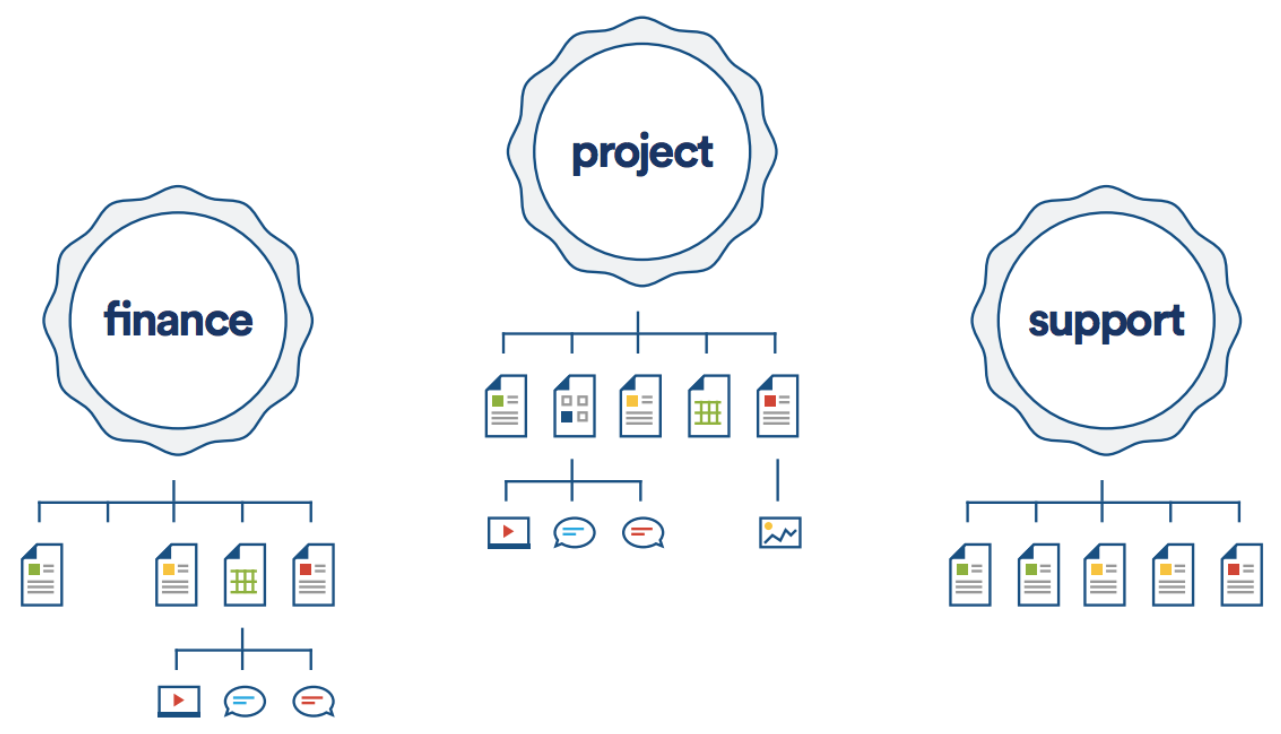 When the world was smaller and we all worked in the same place, we had inherent visibility into what was happening throughout the company, like the overall vision of a campaign or the goals another team was focused on. Now that teams are dispersed, you might feel like working in a vacuum. You have no idea what everybody else is doing, and without the necessary context, your projects, especially those involving multiple teams, seem nebulous.
To ensure your content gets to the right people quickly, it must be easily discoverable and collaborative. Everything stored in Confluence should be named and organized in ways that meet this objective. To that end, you should:
Create spaces that best represent the content you are organizing. For example, you can create a space for projects like a website redesign where you'll keep goals, schedules, mockups, copy, and more.
Create page hierarchies in the same way – collect related content under parent pages so that users who don't know exactly what they need can still follow a logical path to their destination.
Use labels and searchable terms to categorize information and make your content easier to find.
Everyone Can Create Content Together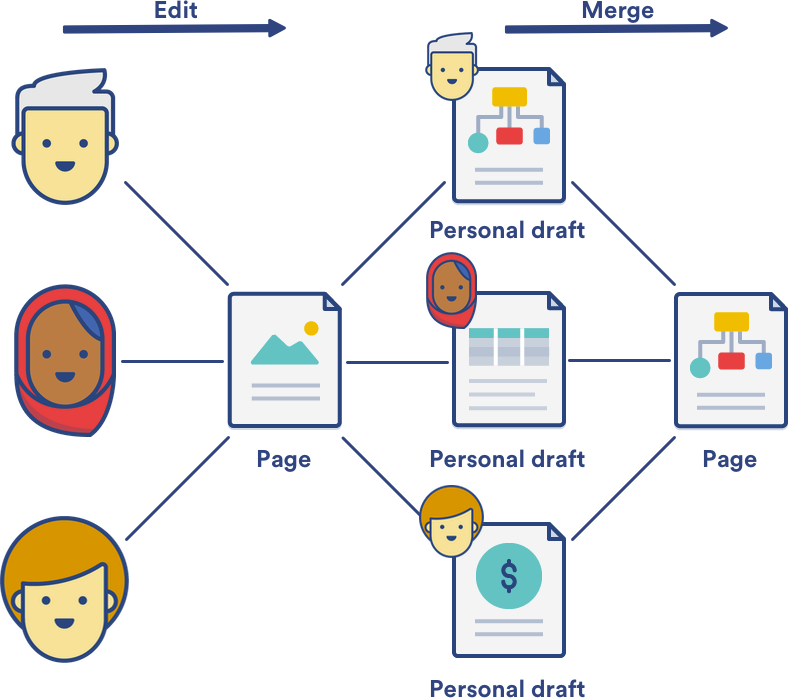 Collaborative editing allows multiple people to edit a single Confluence page or blog post simultaneously. This means you'll never have to wait for one person to make changes before another can begin, and you'll never have to manually merge all of those changes – and their potential conflicts – into a single document. When using collaborative editing, you can see who is changing what in real-time.
Enhance Accessibility with Unstoppable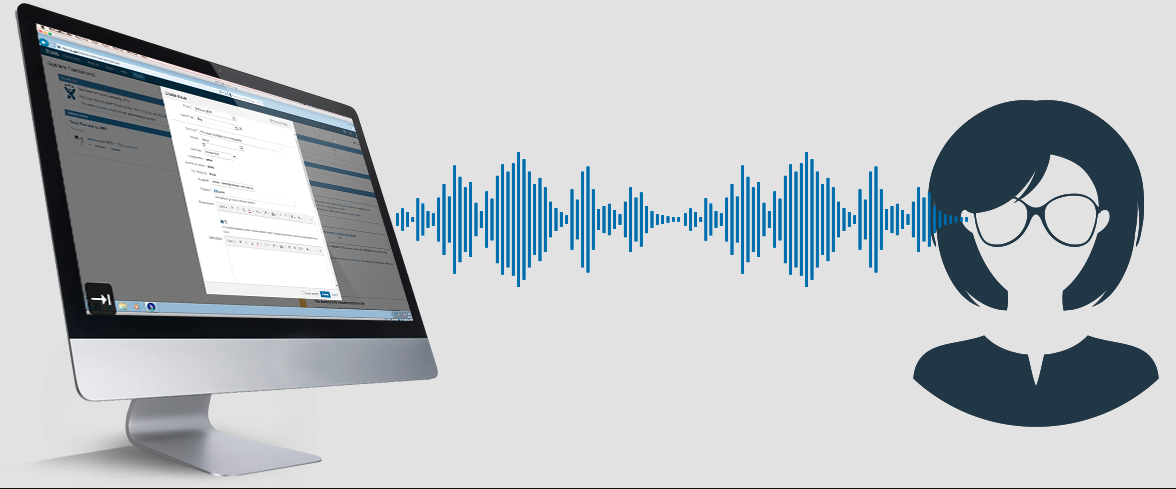 While private organizations are working fast to create an accessible IT infrastructure, government organizations are increasingly expected to abide by digital accessibility standards; e.g., US federal (Section 508) or EU accessibility (WCAG 2.1) requirements. Addteq's Unstoppable enhances accessibility to Atlassian's Jira, Jira Service Desk, and Confluence products, making it easier for users to read with the latest screen reader software. It also provides 508 compliance with WCAG 2.1 standards. Unstoppable is compatible with JAWS and NVDA screen readers and can be used with Chrome and Firefox browsers.
Identifying all users who need access to accessible software can be a significant challenge for any organization. Unstoppable can auto-detect a user using screen-reader software and auto-enables the accessibility options without the need to contact the administrator or manager. This helps users overcome the initial hesitation of asking for support and may potentially overcome a legal requirement.
Create Standardized Content with Templates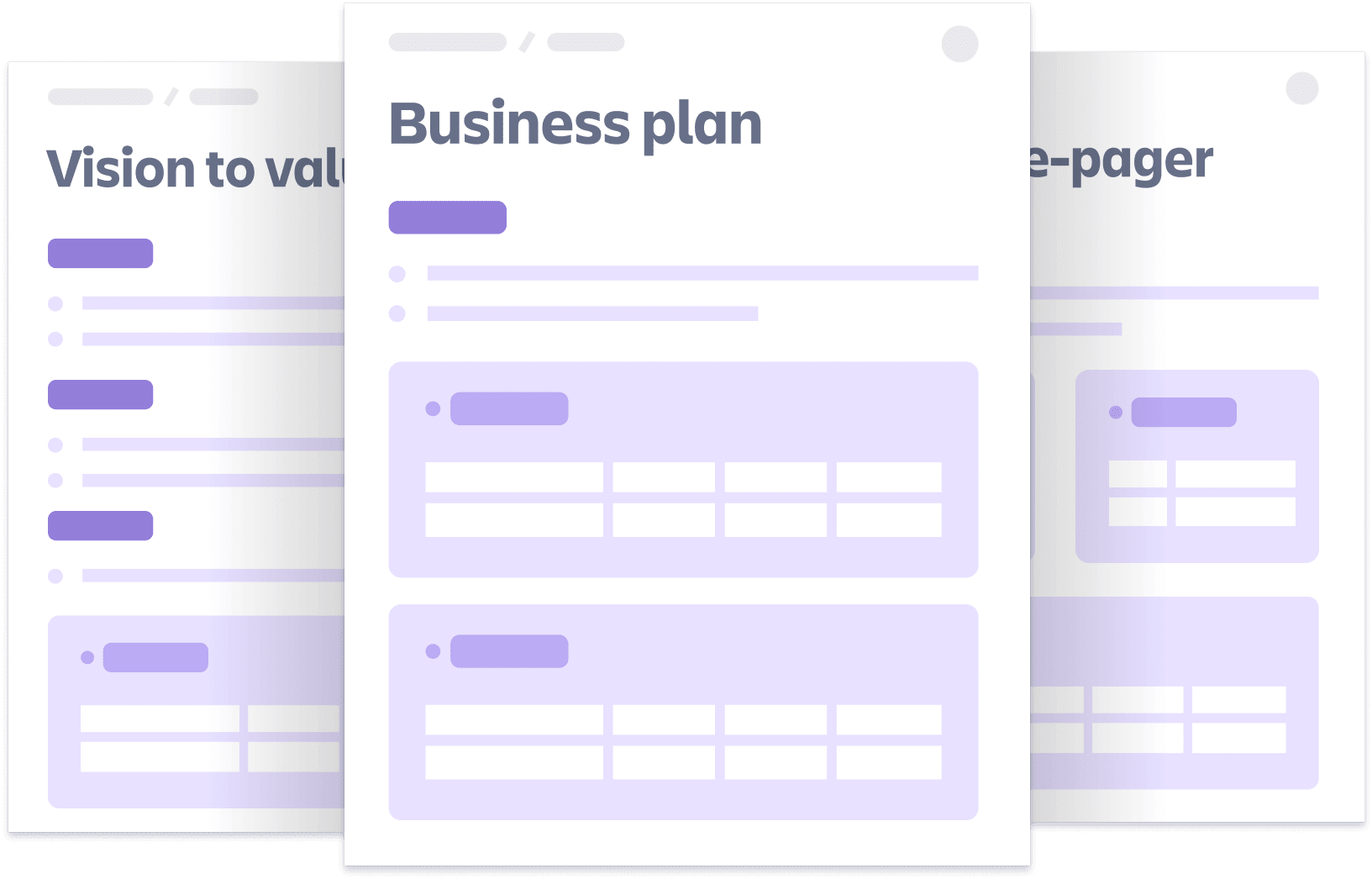 What are templates? You can, but you don't have to start from a blank page when creating a new page. Instead, you can base your new page on a template – predefined content that serves as a starting point so that you don't have to start from scratch. Confluence templates kickstart your content creation, giving you pre-populated pages to fill out so you don't have to start from scratch and so you can collaborate with guidance. How so? Take meetings. Meetings scheduled without agendas, topics that go in multiple directions, or endings without actionable follow-ups are far too common. The meeting notes template keeps your meetings on track. In combination with collaborative editing, you can crowd-source note-taking and capture notes in a commonly accessible place while creating and assigning tasks that attendees can work on afterward.
Over the years, as the number of teams and the types of teams that use Confluence has grown, Atlassian has seen the number of use cases explode. To meet the diversity of use cases in the modern workplace, Confluence Cloud includes over 70 templates right out of the box, which can help you with everything from designing campaigns to defining your business strategy. If that's not enough, you'll find more templates on the Atlassian Marketplace, and of course, you can even create custom templates.
You can create it all in Confluence, from product requirements to marketing plans. Atlassian offers template collections for project management and strategic planning along with categorized templates, including Business Strategy, Design, Docs & Reports, Human Resources, Marketing & Sales, Personal, Product Management, Productivity, Project Planning, Software Development/IT, Startup, and Teamwork!
Stay in Sync with Team Calendars
Everyone on a team can use a team calendar to schedule meetings, delegate tasks, see who is out of the office, or schedule one-on-ones with clients. When you add your important events to a calendar, everyone involved can see and react to those events. Team Calendars in Confluence Premium lets your team stay organized and communicate availability with a schedule of personal and group events that link to individual work calendars and Confluence pages. Team Calendars will soon support integrations with other calendar tools you may be using now, such as Microsoft Outlook, Google Calendar, or Apple Calendar. Team Calendars adds more power to your Confluence pages, allowing you to embed your calendars in your pages or link events to spaces and pages.
Make Use of your Personal Space
Your personal space is one of the best tools in your productivity toolbox.
In Confluence, everyone can get a personal space, and with it, you can publish your Confluence pages and blogs. This is a space just like all the other spaces, but you own it, set the permissions, and design the layout.
While most spaces in Confluence are dedicated to sharing content with others, your personal space is like a virtual private office, giving you the ability to create content meaningful to YOU, in whatever ways that help you be the best you can be. It can be as open or closed as you prefer, like a private office. You can create content and supplementary materials that are especially meaningful to you in your personal space and provide you with the context you need to get your work done.
Personal spaces can also act as a draft space for your work. If you're working on a document but it's not quite ready for feedback, draft it here before moving it to the appropriate destination when it is ready to be shared with others.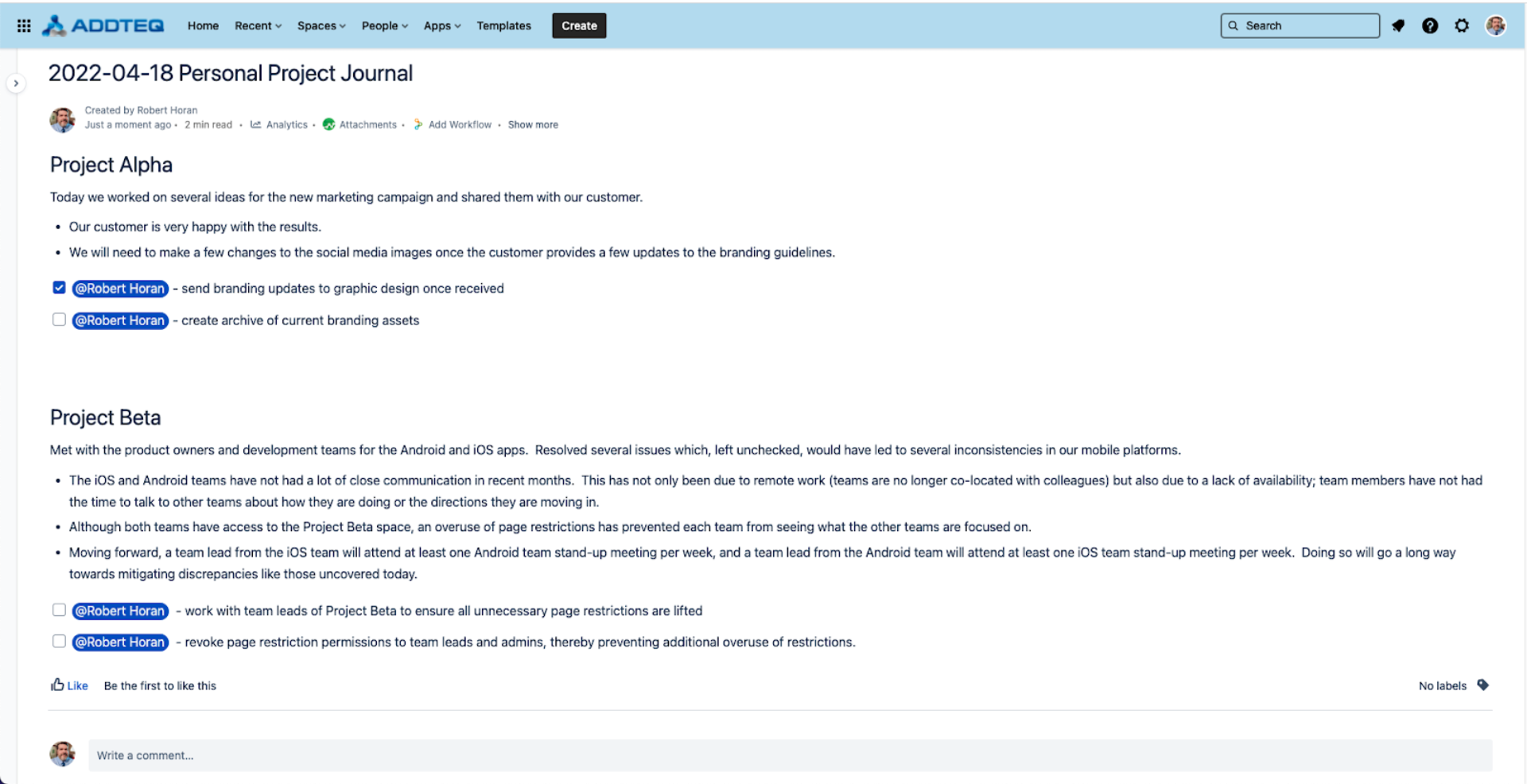 One great way to use a personal space is to create a personal project journal. Multitasking can break our focus quickly, and it can take some time to pick up where we left off after switching gears.
To ensure nothing slips through the cracks when switching gears, you need to know where you left off and what you need to do to get back into it when the time comes. One great way to do so is to create project journals that provide meaningful context to you, to remind you of where you left off and what needs to be done next. Using Confluence tasks, you can make meaningful to-do lists to check off as activities are completed.
Build on Confluence With the Power of Jira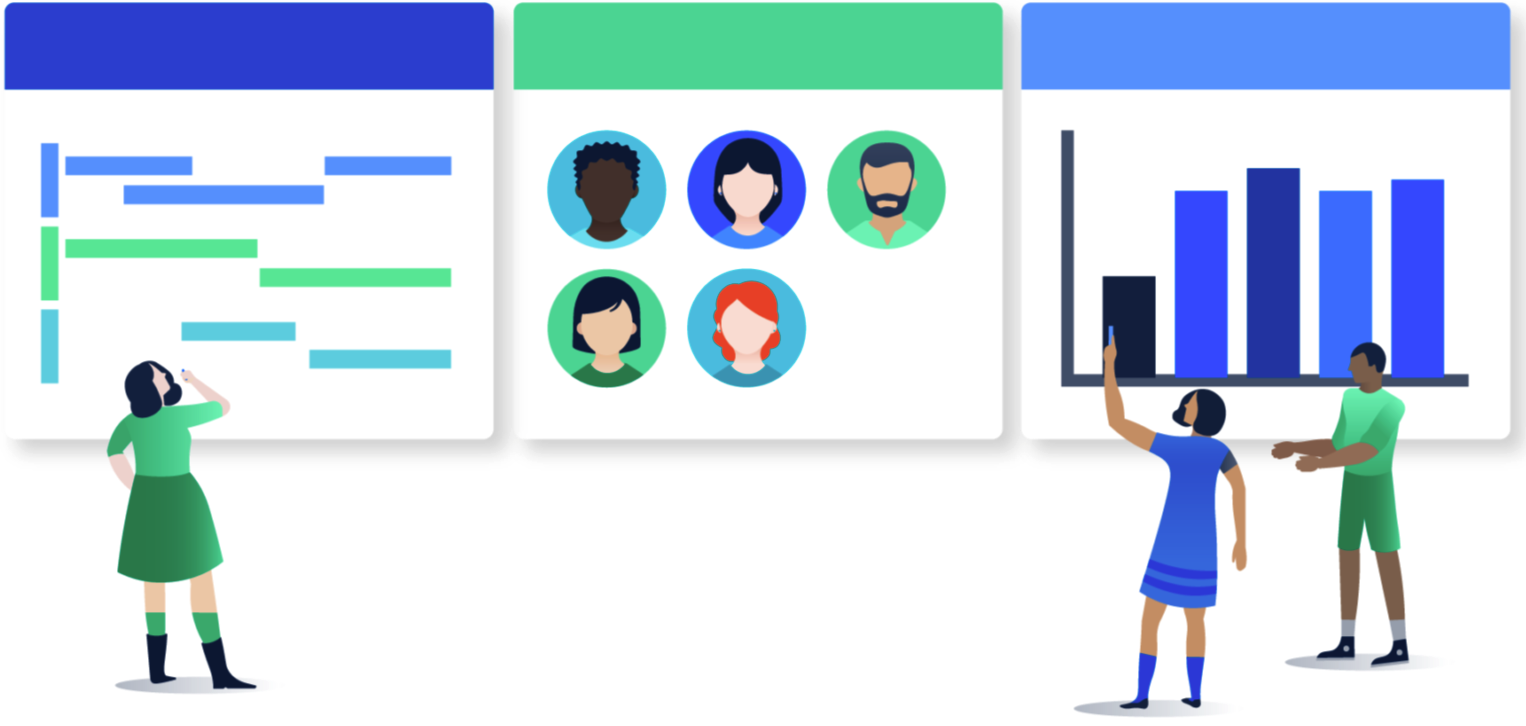 There is a good reason why Confluence and Jira are often found together. They are both very powerful tools on their own, but when combined, they transform how your team collaborates on projects, tracks critical decisions, and more. Jira is great at helping your team plan and track project work. Adding Confluence gives you the power to organize all of the ideas, content, and files that you and your team create as you bring your vision to life.
Confluence tasks are helpful when you want to track tasks alongside your work, such as meeting action items, event to-dos, or other small jobs that don't require you to manage attributes for reporting purposes or time tracking. However, when in project planning meetings or creating product documentation, you may need to create tasks for your project teams – and with Confluence, you can create Jira issues directly within your pages. Anyone writing meeting notes will be able to create both Jira issues and Confluence follow-up tasks without having to leave the page they are working on.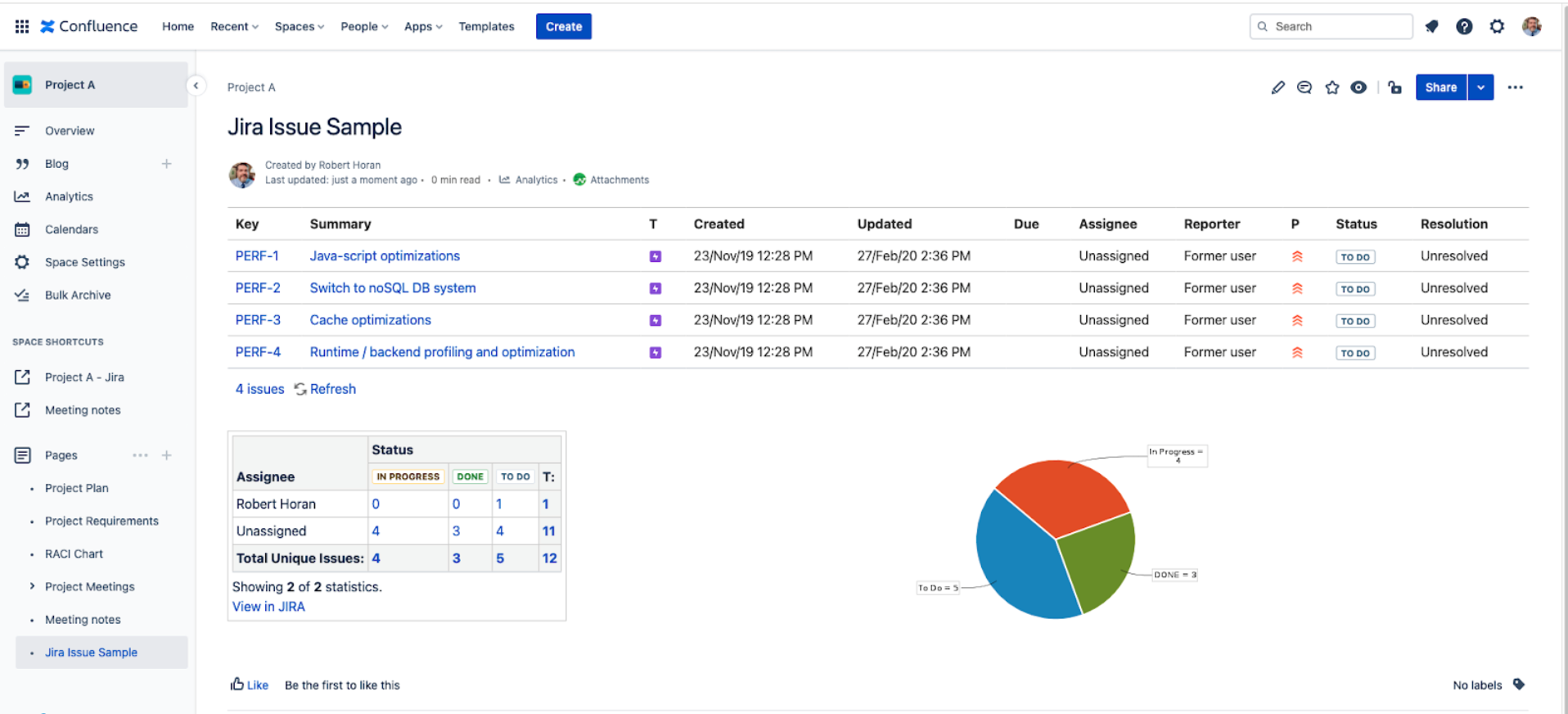 You can display Jira issues in a variety of ways on your pages. Using filter results, charts, and other visual gadgets, you can create dynamic status reports that show the progress of the current projects or static change logs that display what's changed between releases without having to send anyone to Jira.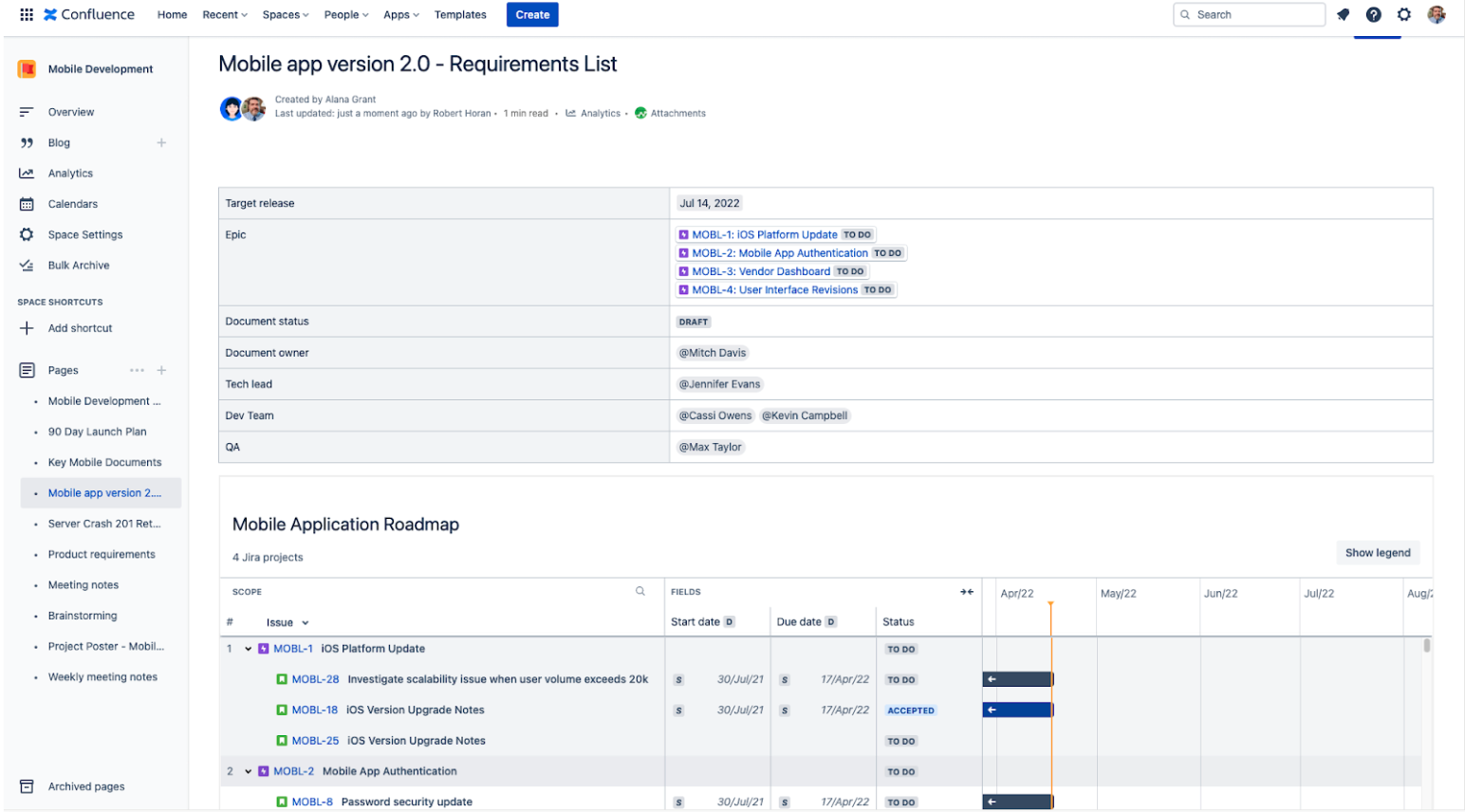 Using Advanced Roadmaps, you can even include a live view of your plans in your Confluence pages!
Build Better Spreadsheets, Faster
Need more functionality in standard Confluence tables? End the Confluence spreadsheet nightmare with dynamic spreadsheets for Confluence. Addteq created Excellentable to try to maximize Confluence's potential to create spreadsheets without the need to import pre-made tables. Excellentable allows you to create and edit spreadsheets in Confluence. Plus, since your Excellentable is native to Confluence, you can get much more from the tool than just a basic spreadsheet or table editor. Now, users can create and edit spreadsheets easily without ever leaving Confluence, and by following some of our best practices, you and your teams will hit the ground running!
Excellentable provides the core functionality of Excel with features like:
Formulas
Data Validation
Multi-sheet workbooks
Conditional Formatting
Versioning
Supports 1 million cells of data
With Excellentable, you can display and edit spreadsheets in Confluence with ease. Instead of struggling with multiple external files, your team can collaborate on data right on a Confluence page. Excellentable fully embraces the Confluence UI, so your spreadsheets seamlessly blend into your page content.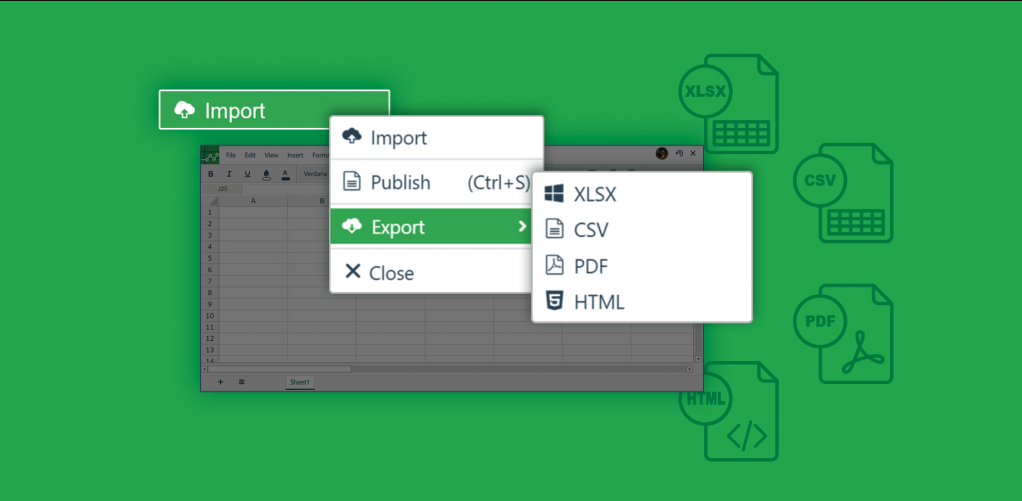 There's no need to build spreadsheets from scratch in Confluence. Excellentable allows you to import your Excel, Google Sheet, and .csv files into Confluence pages. The file's original formatting, formulas, sheets, and up to 1 million cells of data are kept intact during import. You can also export your files back to Excel. It's the easiest way to embed a spreadsheet on your Confluence page.
With its collaborative editing feature, multiple users can edit a spreadsheet simultaneously. This is great for a team that needs constant changes to a spreadsheet. Or a team that is working on a large spreadsheet together. Excellentable ends the hassle of leaving Confluence and allows your team to work together inside of a spreadsheet collaboratively.
Are you ready to build a collaborative team culture within your organization?